Leadership Development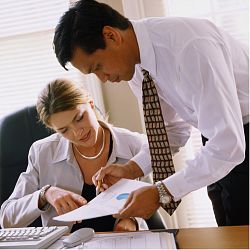 Leadership development is one of the most important platforms needed to grow and improve any business today. Leaders have a disproportionate effect in an organization to the positive and to the negative on results, productivity, commitment, and retention of talented employees. Effective leadership can be learned and a well targeted approach is a high leverage, and high ROI investment. Our consultants are highly experienced in the effective analysis and use of the feedback data to help leaders digest their feedback and develop focused developmental Action Plans.
Question:

Do you know yourself as a leader? In other words: Have you thought about the way you come across as a leader? Do you like what you see and how do others see you?

One thing you have to understand is that those around us judge us by our actions and not by our intentions although most of the time we mean well. Trafton International Group leadership development program teaches organizational leaders to consider how their actions affect others and especially themselves.

Our program uses proven assessment, self-awareness tools and activities to enhance organizational and individual own leadership capabilities. We will teach you strategies for continuous development through extensive assessment, group discussions, self-reflection, small group activities and personal coaching. The leadership development program will focus on your unique workplace needs to maximize optimal organizational and individual success.

Some of the critical areas of focus of our leadership development program includes how to:
Develop Deep Sense of Self-Awareness
Establish Authentic Followers
Develop Individuals and Teams
Provide Coaching and Mentoring
Instill Leadership Qualities
Set Clear Expectations for Accomplishments
Provide and Receive Feedback
Leverage Differences in Others
Build and Maintain Productive Relationships
Develop Sustainable Talent Management
Team Effectiveness
Team dynamics is critical in any organization and for a team leader to be effective he/she must provide the right environment, vision, trust, authentic communication, accountability, tools, commitment, resources, clarity and focus on desired outcomes or results.
Facilitation
Trafton International Group uses facilitator for group meetings and workshops. We provide the environment that encourages everyone to participate fully and helps your organization to achieve things that could not even be considered in a normal office meeting.
Our facilitation method ensures that your time is well spent and all individuals are able to participate fully. As well as managing the process, our professional facilitators can also introduce new processes and elements of training, activities to improve communication and management games.
Here are some examples of activities that our facilitators could include in a meeting, workshop or retreat:
Strategy development
Vision, mission and values
The future of your organization
Strengths, Weaknesses, Opportunities and Threats analysis
Political, Environmental, Economic, and Social analysis.
Technological environments
Brainstorming
Setting well-formed outcomes
Action planning, reporting systems and contracting
We ensure that each event is structured to achieve a previously agreed outcome, and at the same time flexible and responsive enough to deal with whatever arises. Using our facilitator enables everyone to participate fully and provides a safe environment in which to confront sensitive issues.
Workshops /Training
Trafton International Consulting Group has developed a range of workshops and training approaches suitable for application in different corporate and individual environments. Our courses and development programs are designed to achieve the maximum impact with the minimum disruption of normal work, or time away from base.
Our courses guide individuals and organizations from unconscious incompetence through conscious incompetence to conscious competence and eventually to unconscious competence. With examples and exercises we provide a link between the known to the unknown. As we introduce people to new cognitive maps, so they also get reference experiences to give these maps practical meaning. In addition we do provide training needs.
Workshop Topics
How to Lead Your Organization to Achieve Exceptional Results
Ways to Keeping Your Employees Engaged, Motivated and Moving in the Right Direction
How to Manage Change in Turbulent Times
The Essentials of Extraordinary Customer Service
How to enhance Organizational Communication and Build Effective Teams
Leading at the Speed of Trust
How to be a Successful Leader
Ways to Achieve Effective Leadership in Your Organization